An evolving utopia and a philosophy of life
Bubblepunk is a rich and adventurous multiverse that tells stories of strength, acceptance and diversity in alien environments, other-worldlyarchitecture and conflict. It comprises a "creative ecosystem" in which there is not one single form of expression.
Rather, it is a philosophy that can be brought to life in its many facets and styles.
Aesthetically, Bubblepunk is a fusion of saturated and vibrant colors full of movement, thick round shapes, futuristic contraptions mixing organic and traditional techniques with visual craft that incorporates the latest AI and 3D tools into the mix.
The Women of Bubblepunk
A beautiful digital Art book of the assertive, sassy and powerful ladies of the Bubblepunk universe.
Visit page here.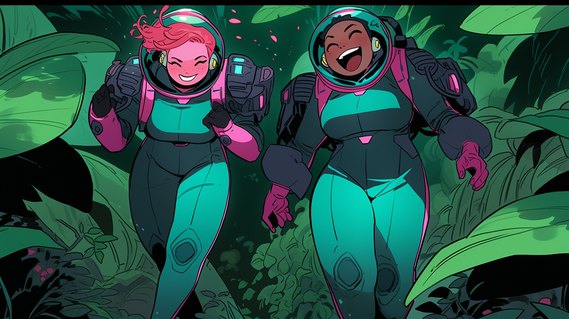 The ladies of Bubblepunk
A tale of love and exploration while facing the dangers of a utopian world. Focused on friendship and love between the crew of the exploration mission, 'Ladies of Bubblepunk' shows what the soft side of strength and resilience looks like when in difficult conditions... and life-threatening situations.
Visit page here.
Bubblepunk, Inc.
An earlier - and still work in progress - version of the Bubblepunk universe, Bubblepunk, Inc. is a retro-futuristic world with a 1920's - 1940's atmosphere. It tells the story of a prized source of wealth and energy that can be distilled into prohibited substances, sold in speakeasies and the backdrop to a story of rising amassed power, and those who opposed it.
Visit page here.